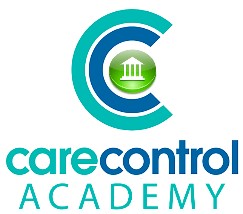 There's a feature on the main system called Care Note Analysis that allows you to search through notes using several variables. These include resident name, staff member, dates, text (contents of the notes), images and videos.
To get to this feature, you'll need to go to Full Admin, open the Care Planning tab and select Care Note Analysis in the bottom right corner.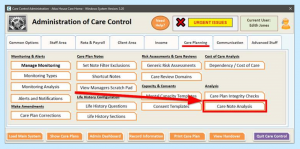 At the top of the page, you can enter the information you want to search for. Most notes have key text when they are recorded, i.e. fluid intake notes begin with the text "Fluid Intake Recorded".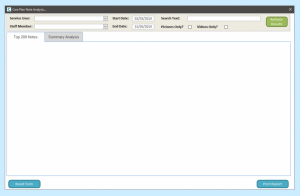 N.B. If you want to keep some search areas as broad as possible (such as searching notes for a particular resident written by all staff) then you can leave those boxes empty.
Once you have entered your search information, press Refresh Results.

You can print a report of the notes found by clicking the Print Report button in the bottom corner.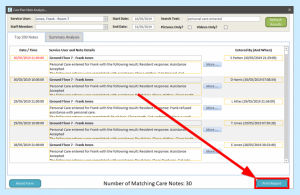 If you want to search for something else, you can either replace the search options at the top or press Reset Form at the bottom.