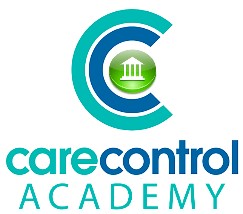 We have an extra level of security with our QR codes to reduce any misuse of the system.
To make sure this new level of security is in place, you will first need to go to the System Settings (which can be found in the Advanced Stuff tab).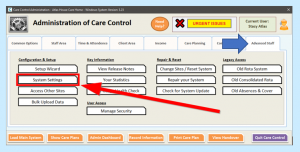 Click on the QR Codes section.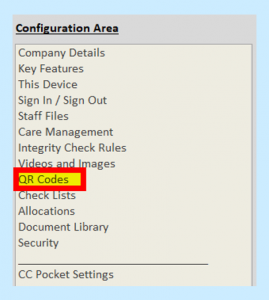 You will see the Security Setting box. You can type something into here – this will be encoded into the QR codes.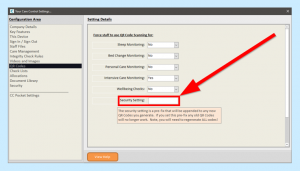 Click Save Changes when you are finished.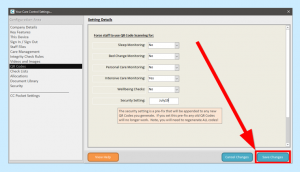 You will now need to access the QR Code Management area – you can find this in the Client Area tab.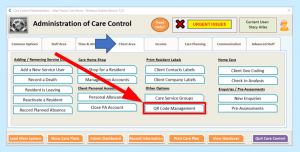 All of the QR codes will need to be regenerated to include the new security setting. Click Regenerated All Codes to do this.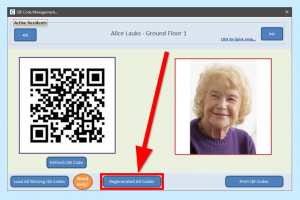 Select Yes to load all QR codes.

The screen will flash through your service users, refreshing the code for each one. When completed, click OK in the message box.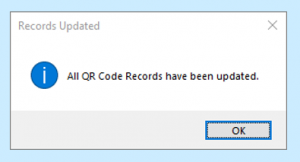 You will need to print the QR code now. Click Print QR Codes for options.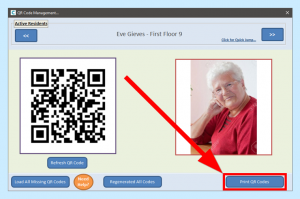 You can select and deselect any service users by clicking their names. You can also select your preferred print format. You have four options:
4 QR Codes per Page

8 QR Codes per Page

Room Door A5 Print – Landscape

Room Door A5 Print – Portrait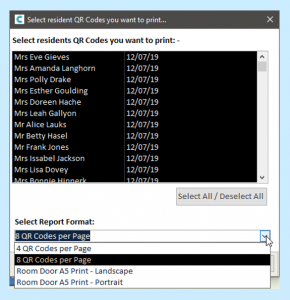 You can now position your QR codes appropriately (in service users' rooms or on their doors) for use when recording monitoring areas.