Monitoring Analysis
Monitoring Analysis is where you can view if your frequent monitoring is being completed correctly – this is monitoring that is required on a regular basis throughout the day and night, it is your fluid, intensive care, movement, sleep and wellbeing.
To view this, you will need to go to Full Admin, to the Care Planning tab and then select Monitoring Analysis.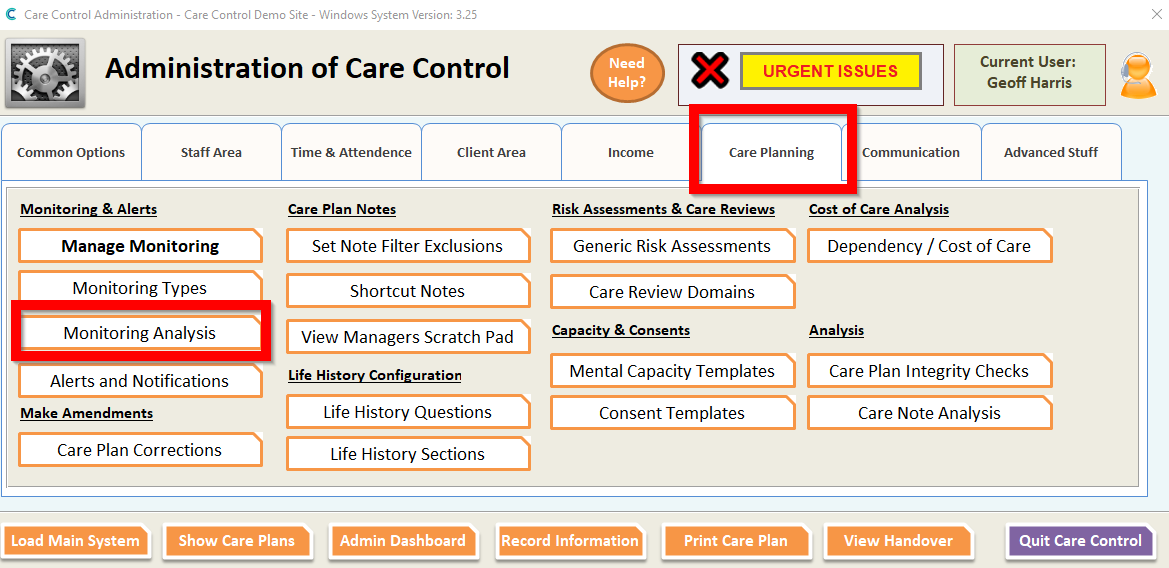 You will then be able to Select the Monitoring Area you wish to check and the number of days you want to view.
Select Run Report.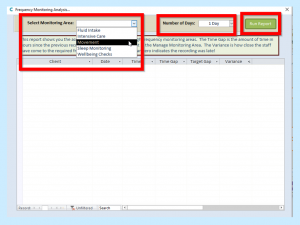 This will then bring up detailed information for that monitoring. It will show you the names of the service users who have this monitoring set up for them, the date of the monitoring, the time the monitoring was recorded, the time gap between recorded monitoring, the time gap that you have set for this monitoring and the variance which shows how well your staff have responded to recording the monitoring. If this has a minus number, this is good as it shows your staff are keeping up with the monitoring and could even be ahead of it! If there is a number there without a minus this means that staff are not keeping up with recording the monitoring and you may need to ask if there are any issues.
Below is an example of staff keeping up with monitoring – this shows that staff are 1 hour and 42 minutes ahead of scheduled monitoring.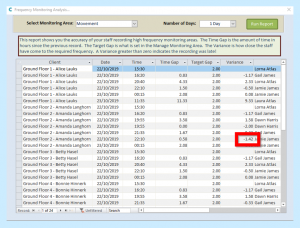 Below is an example of staff not keeping up to date with recording monitoring – you can see that they were late recording the monitoring and there is a 2 hour and 33 minute time gap which you may wish to discuss with your staff.