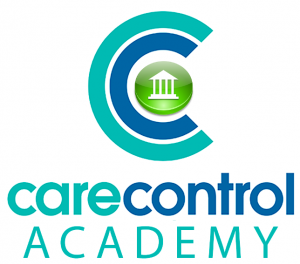 To install Care Control Mobile on a Windows PC you will need to open the link below – You can either click on it, or copy and paste it into your internet browser:
http://secure.carecontrolsystems.co.uk/downloads/carecontrolmobile.exe
This will start a download, usually in the bottom left of your screen. If given the option, select Run, but depending on your PC you may have to select Save instead.
Once the download is complete, click on carecontrolmobile to open the installation wizard:

At this stage, you may need to enter an administration password to confirm you have permission to download carecontrolmobile onto your PC. If you do not know the password you will need to contact the person who set up your PC.
On the first screen select Next.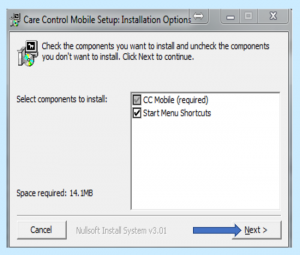 Then select Install.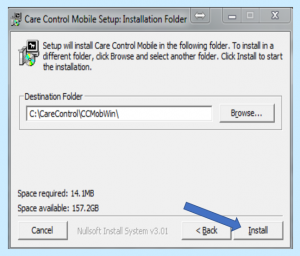 The wizard will now install Care Control Mobile onto your PC. Once complete select OK.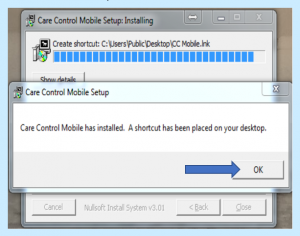 Select Close.
Select CC Mobile on your desktop by double clicking the icon.
On the welcome page:
Select Step 1 to watch the getting started video
Select Step 2 to load the demonstration site
Select Step 3 if you are ready to start and enter your Site Code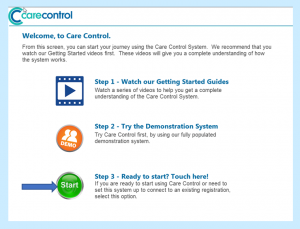 If you select Step 3 – Ready to start?, on the next screen select Existing Registration.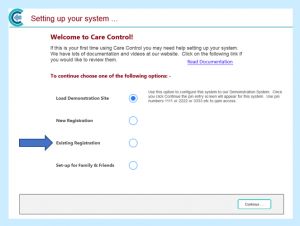 Enter your Site Code by selecting the grey text box. This part is case sensitive, so remember to use capital letters.
Select Continue.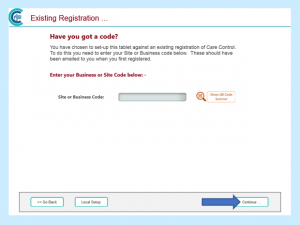 Once completed you will be met with the pin screen.
Issues with installing Care Control Mobile
Your graphics card doesn't meet the minimum requirements for Care Control Mobile.
If you get a message saying that you need a minimum of openGL 2.1, your graphics card does not meet the minimum requirements to run this program. You may be able to try updating the driver in device manager to fix this.