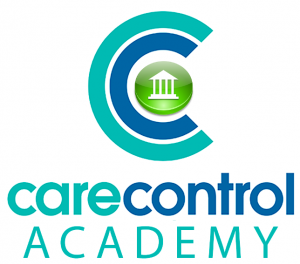 Care Plan Integrity checks are included in the system to let you know areas within your care plans that may need a little more detail. Our Integrity Checks are designed for you to have a look at each of the Care Plans for each of your residents and easily be able to see where the issues are.

To check your Care Plan Integrity you can use the tool on Care Control Windows. This will tell you the parts of your Care Plans that may need more information. For example, if a care review level of need goes from Low to Severe you will need to enter more information to explain why the level of need has changed. This tool is a guide to tell you where we feel you may need more information. If you feel the level of detail is already adequate, you do not need to change anything.
From the Admin Dashboard – which is the screen you arrive at when you first lot into Care Control Windows – select Care Plan Integrity Checks: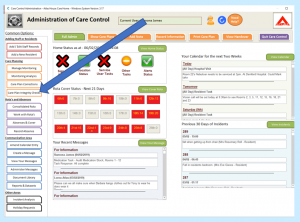 Or, you can also access them from the main Admin Centre/Full Admin screen, where you need to select the Care Planning tab followed by Care Plan Integrity Checks.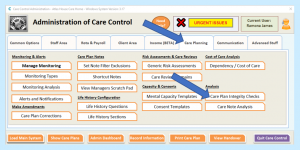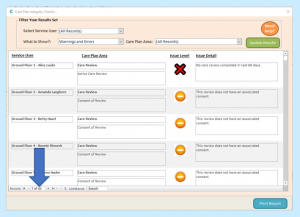 From the Care Plan Integrity Checks front screen you have a number of options – you can filter your results to find exactly what you are looking for, or you can view all. On the screen above there are 63 issues and you can use the filters to get any information about these that you require.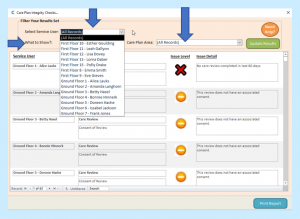 To filter by a particular service user, select the name that you require from the Select Service User drop-down: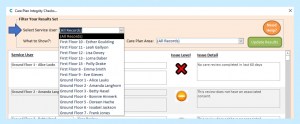 To filter by Warnings/ Errors/ Warnings and Errors, select your required option from the What to Show? drop-down:

To filter by Care Plan Area, select your area from the Care Plan Area drop-down:

Once you have completed your filtering, select Update Results:

You will receive an Issue Level for each area on the check. Areas that have a red cross mean that the information missed is vital and you should enter more detail. The amber warning is to tell you that although not necessarily vital, information has been missed.


Below is an example of a selected Service User, showing both Warnings and Errors from All Records: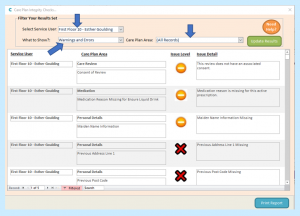 Followed by an example of a selected Service User, showing the Warnings only in the Care Review: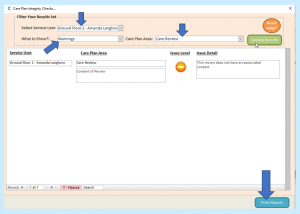 It is good practice to go into Integrity Checks prior to doing your Care Reviews as this will guide you through adding extra information where required.
You can also print off the information and give it to the personal responsible for doing the Care Review if you wish to.
In order to amend/add to information which has either been flagged up as a Warning or an Error you will need to complete a new Care Review. Please note, however, that you will not have to create the whole Care Review from scratch as the information from the previous Care Review will automatically populate the new one, and you just need to make your amendments before saving it.
Please note…
The Care Plan Corrections section of the system is for removing part of a Care Plan/Editing a Note/Moving a Note to another Resident etc. and NOT for making changes due to a warning or error that has been flagged up during a Care Plan Integrity Check.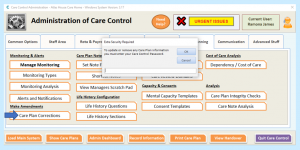 For more information on the Care Plan Corrections button, please click on the following link:
https://www.ccacademy.co.uk/knowledge-base/editing_removing_a_note/