Through Care Control, your staff can complete a care certificate using Skills for Care.
For a staff member to gain access to this, you will need to add them onto the system.
To do this select the Staff Area tab…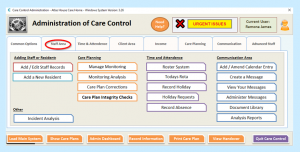 …then select Care Certificate under the Training heading.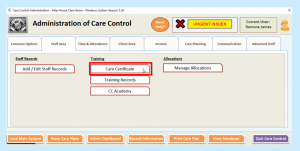 In here you will see an overview of Care Certificate progress.
To add a new staff member, select Add New Staff Member.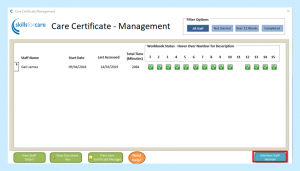 Select the staff member required from the drop-down.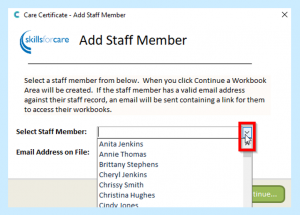 The staff member will need an email address to take part. If they already have an email address on the system, it will display in the lower dialogue box.
If they do not have an email address on file, you can manually enter this here.
Once finished, select Continue. This will send the staff member an email with instructions on what to do to access the workbook. If they do not receive the email, you should check the junk mailbox to see if it has been moved to here.
To find out how to resend a starter email, please select the following link- Resending a Care Certificate Email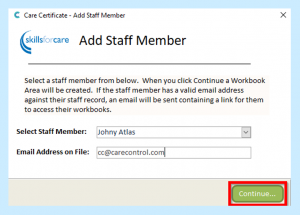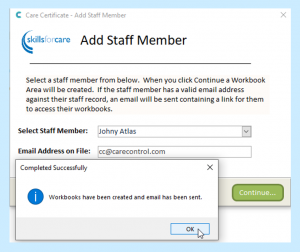 You will now be taken back to the overview screen.
Here you will see any staff that you have added and their progress (until they begin the course they will have a red cross for every workbook).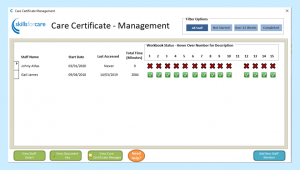 At the top of this screen you are also able to filter your staff to show Staff that haven't started the workbook, progressed over the past 12 weeks and any that have completed the workbook.

Other functions on this page include the View Document key – for an overview of all of the workbooks and View Care Certificate Messages to view any messages that have been sent relating to them.